Aaron's stores will be making some temporary changes to protect our customers, team members and the community. Learn more below, and if you have questions or concerns, please call your local store, or our customer care team at 1(877)‑607‑9999. We're here to help.
Open and ready to serve you!
We're pleased to announce we are opening some of our showrooms. Not all showrooms will be open, so it's important to find your local store with our store locator to see what services are available in your area.
If your local showroom hasn't opened yet, you can continue to shop, pay, and pick up curbside!
We're taking action to make sure our customers and team members stay safe. You may notice a few changes when you visit your local showroom. We've outlined these changes below so you know what to expect when you come to shop, make a payment, or pick up an order.
Curbside will also remain available if you don't feel comfortable going into the store. Just give us a call and our associates will happily meet you curbside.

Maintain social distancing

Limited store occupancy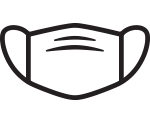 Masks for all team members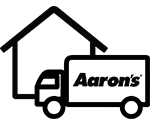 Doorstep delivery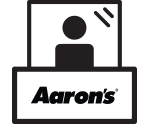 Register guards

Curbside service
Payments
We are accepting payments over the phone, online, through EZPay, with our Curbside Service, or in our opened showrooms, if applicable. If you're having issues making your payments due to COVID-19, please call your local store to discuss your options and learn how Aaron's can help.
Product delivery
We are still able to deliver products to your home. However, we will leave products at your front door (after checking for appropriate ID and completing all lease paperwork) to practice social distancing and reduce the risk of person-to-person exposure.
Product service and repair
To minimize potential exposure, if your product needs to be serviced during the recommended social distancing period, please contact your local store and they will schedule front door pick up.