Apartment kitchen ideas that maximize space
Apartment kitchens can feel a bit cramped, especially if you're living in a big city. But, with these space-saving apartment kitchen ideas, you'll be able to maximize your space and keep it organized!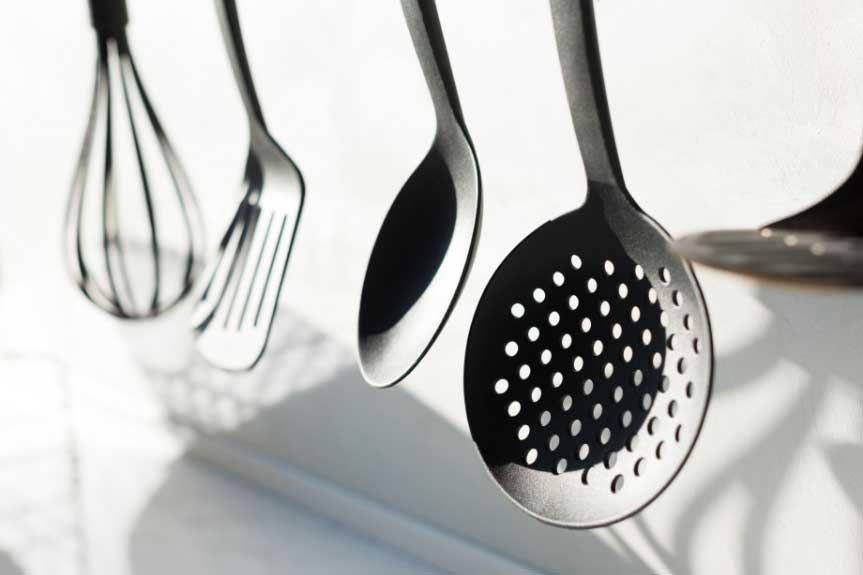 Make use of cabinet doors
One secret space-saving technique that costs less than ten bucks is installing permanent or temporary hooks or shelves on the inside of your cabinet doors.
Just head to almost any hardware store and you'll find all sorts of Command hooks and other products.
You'll be able to hang things like measuring cups and utensils, or store things like container lids, rolls of foil, and plastic bags.
The best part? You're making use of space you already have!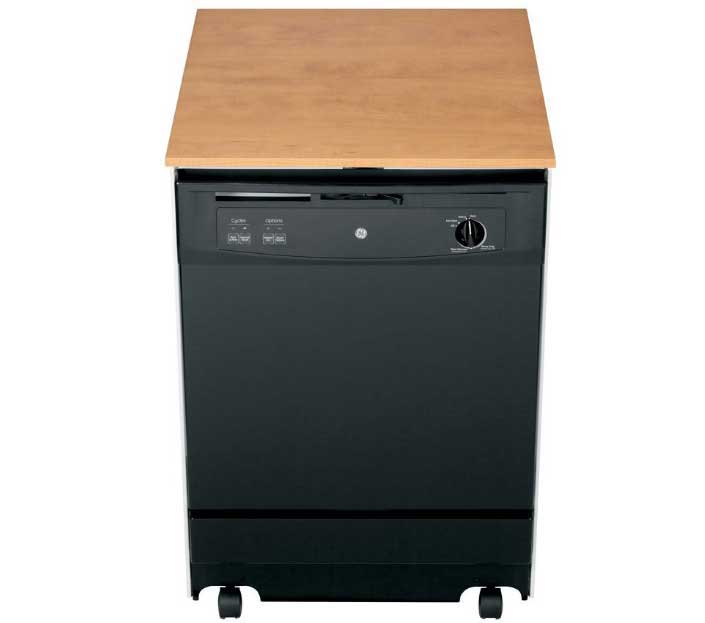 Choose space-saving appliances
In smaller kitchens, your appliances can really eat up space. It's important that appliances are proportionate to the size of the kitchen.
Instead of overcrowding the space with a giant, full-size refrigerator, look for smaller capacity models (like under 20 cubic feet).
Another way to save some space is to use a portable dishwasher. You'll be able to move it around as needed (hello wheels) and many of them come with laminate tops that can double as extra counter space.
Just because space-saving appliances look smaller, it doesn't mean they aren't as mighty! We promise!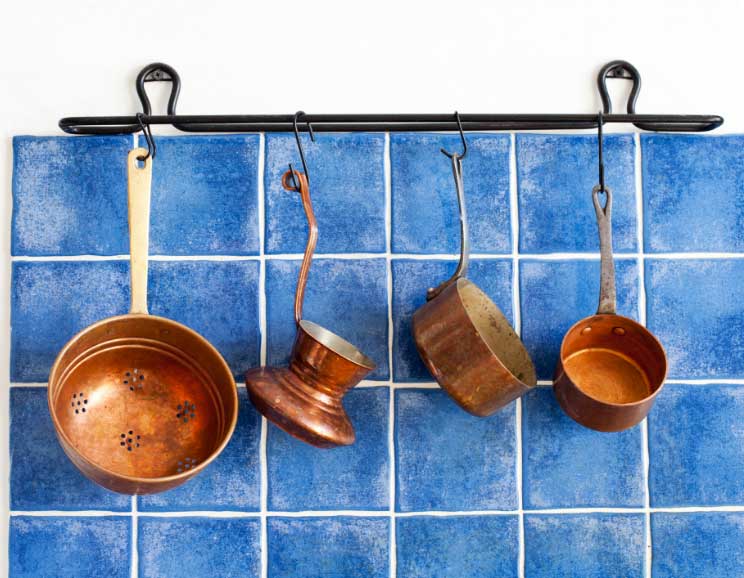 Try a pot rack
In apartment kitchens, the cabinet space can be somewhat limited. So, instead of storing your pots and pans in the coveted cabinets, try a pot rack! It can hang over your island or anywhere there isn't a ton of foot traffic (you don't want your guests bumping their heads!). Plus, another great perk about using a pot rack is that once you've washed your larger pots and pans, they won't need to take up counter space to dry because you can just hang them up.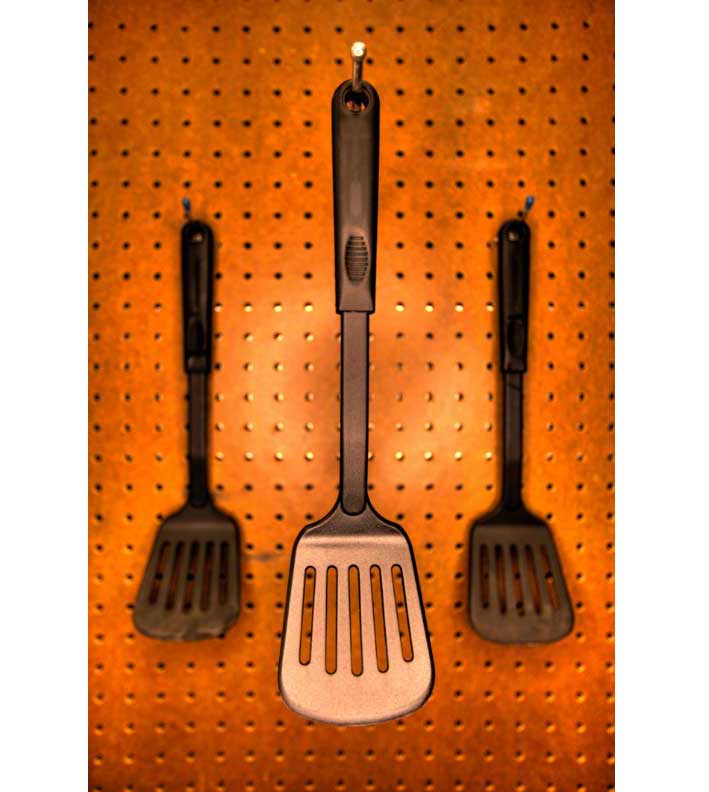 Hang up a pegboard
Have you ever heard of the super famous American chef, Julia Child? She's best known for her countless cook books and TV cooking show. Needless to say, she knew how to put together an amazing and practical kitchen, and she swore by this idea!
In her own kitchen, she used a pegboard to hang up everything from measuring cups to copper pots and pans. It functions similar to a pot rack, but you can hang so much more. Think whisks, coffee mugs, tongs, spatulas, skillets… the list goes on and on.
Pegboards are such an awesome space-saving solution because they make use out of unused vertical space. If you need help getting started, here's a helpful tutorial on how to hang up a pegboard in your kitchen.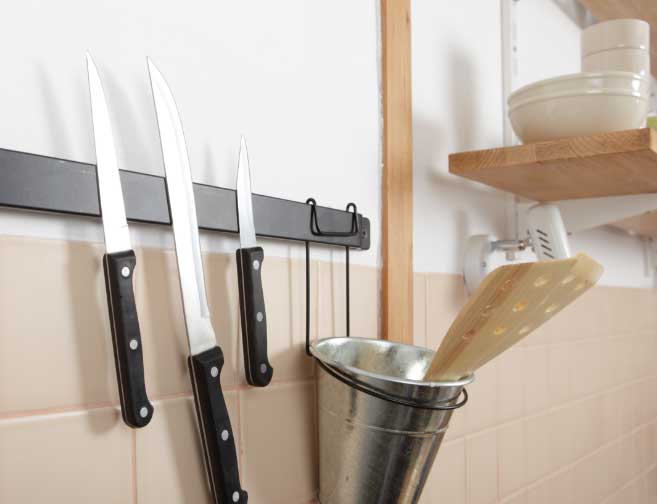 Use a magnetic knife rack
When counter space is limited, a magnetic knife rack is a simple fix to save a ton of counter space that could be better used for things like food prep. Plus, magnetic knife strips are typically a very inexpensive space-saving fix; we're talking less than 40 dollars depending on the model!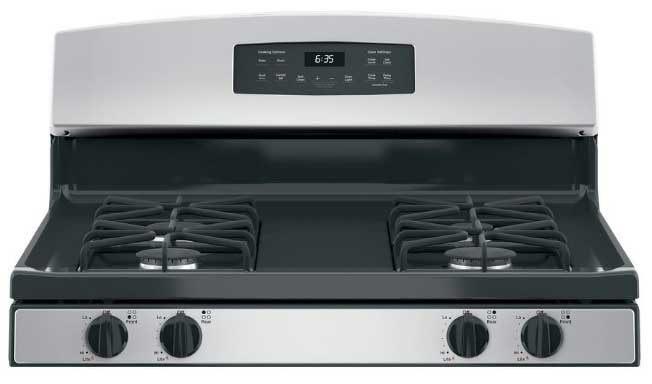 Turn a burner cover into a cutting board
The top of your oven doesn't have to be a complete waste of space when you're not using the burners! You can actually extend your counter space by using your range as a cutting board. We know it sounds crazy, but it's actually an ingenious way to lengthen your countertops for cheap. Here's a tutorial on how you can turn your range into a cutting board!