Movie night and
game day approved
Sofa Buying Guide
Whether you're replacing a sofa or getting a sofa for your new home, we can help. It's a big purchase — and you'll want to consider all the details before you buy. Here are a few things to consider if you're in the market for a new couch.
Make sure to measure
Before you choose a sofa, you'll need to think about the size of your room. Here's how to size things up before you buy.
PLAN YOUR ROOM'S ARRANGEMENT

Before you start the sofa search, think about the room you'll be putting it in. Is it going in your living room? Or will it be in your finished basement? Visualize where you think the sofa will go and make sure it works with your other furniture. If you can't figure it out, try sketching the furniture layout. This will help you finalize the best place for your new sofa.

MEASURE THE ROOM

After you have a general idea of where you want the sofa to go, measure the spot. Make sure you measure how wide and how deep the couch can be. Then, compare these measurements with the product dimensions on our website or in our stores.
SECTIONAL OR SOFA SET?
At Aaron's, we offer sofa sets as well as sectionals for your living room. Each has its own benefits, so you'll need to go with the one that works best for your lifestyle and your home.
STANDARD VS. RECLINING SOFAS
We offer both standard and reclining sofas. Whether you just want to lounge, or you want to kick back and relax, we have options for you. Here are some things to consider.
CHOOSE YOUR MATERIAL
Sofas and sectionals are available in a wide range of fabrics and colors — but which one is right for you? Between fabric, microfiber, faux leather, and real leather, there are a lot of factors to consider.
FABRIC AND MICROFIBER

Fabric and microfiber couches are durable and often more affordable than their leather counterparts. Many microfiber and fabric sofas also have clean, modern styling for a more contemporary look. Depending on the color you choose, fabric and microfiber can be a bit tougher to clean.

FAUX LEATHER

Faux leather and real leather both have their pros and cons. If you'd like more information, we dive into the details in our blog. Faux leather looks and even feels similar to real leather, but often cost much less. It's very easy to clean with a damp cloth as well.

REAL LEATHER

Sofas made from real leather are generally a bit more expensive, but they're also durable, stylish, and easy to clean. Another benefit of real leather is the rich, dark color it develops over time. Some things get better with age! Leather is also easy to wipe clean, but it does require a bit more maintenance than other options. If you buy real leather, be ready to treat it with leather care products every so often.
---
Reasons to Shop
No
Credit
Needed*
Leasing to own with Aaron's makes it easy to own the products you want without needing credit.

Free
Delivery**


Pick a time that works best for you, and we'll deliver your products right to your door for free!

Service
and Repair
Included
Don't worry about having to fix a product that isn't working the way it should – defective merchandise is covered while you're leasing from us!

No Hidden
Fees
We provide flexible lease ownership plans designed to fit your budget – with absolutely no hidden fees.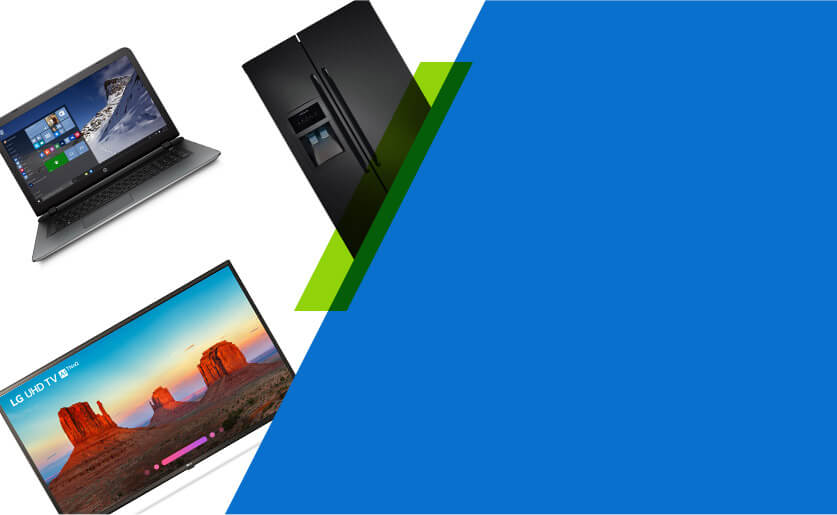 Need help finding the perfect product?
Check out our buying guides to make sure you find the perfect product to fit your home
View Now